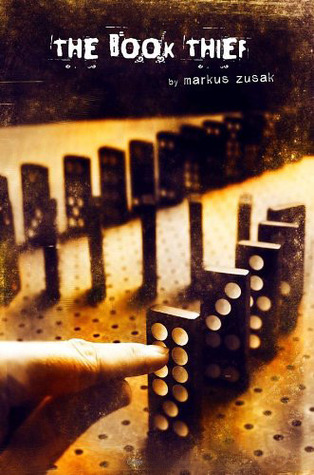 Stars: Five
I can't believe it took me this long to read this book. I've seen it everywhere, it was made into a movie, and it's about World War II – one of my favorite subjects. It's been on my TBR list for years, but I never quite got to it. I'm glad I finally did. It's an amazing book. (I did not cry. But only because I was on the metro while I read it.)
Death and Liesel Meminger meet for the first time when she is ten. Her brother dies before her as they are taken to a foster home outside Munich. Luckily, her new parents, especially her new Papa, are very understanding. She becomes a part of the vibrant community around her. But since they are in Germany in the late 1930s, Death and Liesel meet again many times. Between their meetings, Death keeps an eye on her and follows her book-stealing and reading career.
I love Death's quirky narration. Despite the dark setting of the story and the grim nature of his work, the narration is friendly and reassuring. I was so absorbed that the ending took me by complete surprise, despite overt foreshadowing. Liesel, her Mama and Papa, her best friend Rudy, and all of the other residents of their small community are so vibrant and full of life. You feel like you are in the basement with them listening to Liesel read her stolen books during air raids.
The darker theme of the book is, as with many books about World War II, what happens when good people do nothing in the face of evil and intolerance. The town is within walking distance of Dachau, a labor concentration camp. Jews are paraded through the streets on their way to the camp. The one man who stands up to the inhumanity and offers a small gesture of kindness is punished. It's a side story to the Book Thief's main story, but one that Death muses on often. It felt a bit heavy-handed compared to the rest of the narrative.
I highly recommend The Book Thief. I can't wait to see the movie. A warning, though – it is considered experimental fiction and the narration by Death is not for everyone. But if you want a great story about love, family, death, and reading, give it a try.