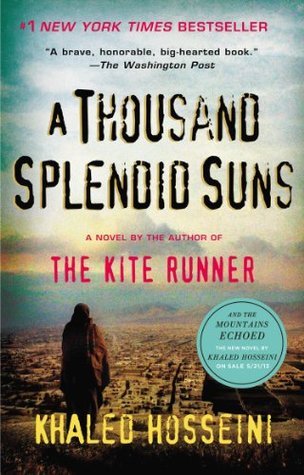 Stars: Five
Do you like having your heart ripped out of your chest, stomped on, and then shredded? Then you will love A Thousand Splendid Suns. Hosseini is the master of getting your hopes up, making you think that finally, something good will happen, and then destroying everything. The lives of Mariam and Laila are a microcosm of Afghanistan over the decades from before the Soviet invasion to the American arrival post-9/11.
The plight of women in Afghanistan is well-known. The Taliban are a repressive group that refuse to let women out in public uncovered or without men. I enjoyed reading about the pre-war times when women were able to walk the street alone and to work. I was amazed that the Soviet-backed regime was more gender-equal when it came to education and women working. Like many Westerners, I assumed that women had been covered in Afghanistan since Islam arrived. It makes the laws against women when the Taliban took over that much more frustrating – this is a country, and a city, in the case of Kabul, that has known empowered women who participated in economic activities. The huge backward jump has affected the country in so many ways.
Despite the heartbreak, the novel is a beautiful picture of female friendship in a broken society. Miriam is old enough to be Laila's mother, but they bond over their shared misery and Laila's delightful daughter. Their friendship sustains both through the dark times of war and abuse.
Mariam is the true hero of the book. After her semi-happy childhood comes to an abrupt end, she spends the next 20 or so years miserable and downtrodden. Even the light from her friendship with Laila isn't enough. When her story comes to an end, though, the reader is by her side feeling proud that she was able to end her suffering on her own terms.  Laila's happy ending is nice and highlights Miriam's sacrifice. It satisfies the reader after all the tragedy. But Miriam's story is the truly heroic arc.